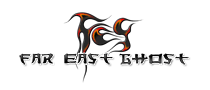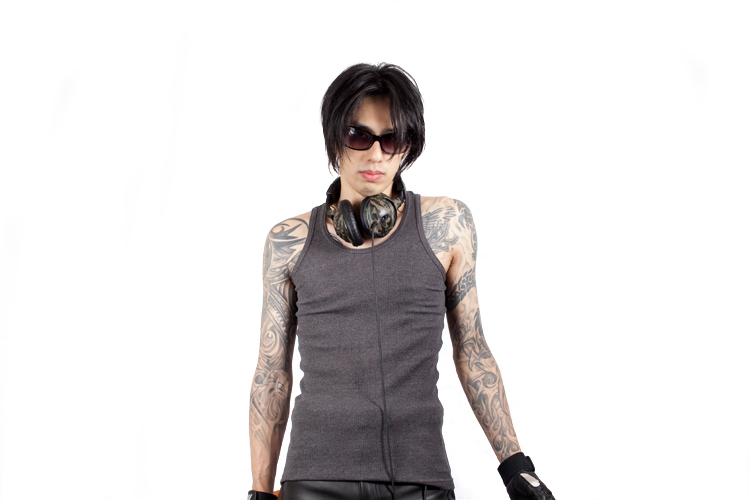 Takeomi is the globe-trotting Tokyo-based artist behind the Far East Ghost project who embodies the Japanese psychedelic sound through his deep yet hardcore music production.
After releasing his debut album "Welcome to Psychedelic Hell" in spring 2007 from Trip Records, he completed a smashing Japan tour, joined Triplag Music and Kabrathor Music as an official label artist, and blitzed through a successful European tour in the winter of that same year.
In addition Takeomi has contributed to releases from Manic Dragon, Kagdila Records, Amibivalent Records, Last Possible Solution and a number of other leading international and domestic labels.
He has been working on collaborations with acclaimed Japanese artists Savage Scream as Diablos and with Noise Gust as Mephisto and released a triple split album including Diablos, Mephisto, and Baal, titled "Lords of Destruction" from Triplag Music on Sep/2008.
The long awaited Far East Ghost's double disc 2nd album "Emperor" has released on May/2009 from Triplag Music.
On another front, he has been active in a number of other projects, including the rock-psychedelic trance fusion project "Zeta" featuring Marty Friedman (ex-guitarist of Megadeth/Lovefixer), and has been showcasing his multifaceted talents by contributing to the soundtrack of Ryuhei Kitamura's film "Versus", and to the production of Marty Friedman's solo album.



Equipment List

DAW
Steinberg Media Technologies / Cubase 9 Pro
Avid Technology, Inc / Pro Tools 12
Audio Editing & Mastering
Steinberg Media Technologies / Wavelab 9
PreSonus Audio Electronics, Inc. / Studio One 3
Monitoring
ADAM Audio / S2X
AcousticRevive / RSS-1053
TAGO Studio / T3-01
Sony Music Communications Inc. / MDR-CD900ST
Sennheiser electronic / HD-25 Amperior
Fostex Company / PH-50 (Powerhill mod)
Navigator / HPA-900
Conversion
Solid State Logic / Alpha- Link MADI AX
RME / ADI-2 Pro
RME / HDSPe MADI FX
Synth
Waldorf Music GmbH / Blofeld Keyboard
Outboard
Manley Laboratories, Inc. / Slam! Mastering Version
Rupert Neve Designs, LLC / Portico II Master Buss Processor
Automated Processes, Inc. / 550e (Special customized for mastering)
Sound Performance Lab / Passeq Model 2595
Retro Instruments, Inc. / 176 Limiting Amplifier
Universal Audio Inc. / 1176AE
Manley Laboratories, Inc. / Voxbox
Millennia Media, Inc. / TD-1
Avedis Audio Electronics / MA5
dbx / 160SL
dbx / 162
dbx / 160x (made in USA w/Jensen JT-123-DBX)
BBE Sound, Inc. / 882
TL Audio / O-2031
ROGER MAYER ELECTRONIC DESIGN ASSOCIATES / 456HD
Summit Audio / EQP-200A (w/Mullad 12AX7)
DSP Card
Universal Audio Inc. / UAD-2 OCTO
Power
Sinano / HSR-2000
Sinano / GPC-1500 (100V)
Voltampere / GPC-T (120V)
CD Writer
Yamaha / CRW-F1DX
Yamaha / CRW-3200
Microphone
audio-technica corporation / AT4060 (mod)
AKG ACOUSTICS / C414EB
Crowley and Tripp / Naked Eye
Sennheiser electronic / e609 black
Sennheiser electronic / MD 421-U
Shure / SM57
Guitar & Bass
SCHECTER GUITAR RESERCH / AR07 (Customized)
Gibson / Les Paul Custom
Gibson / ES-135
Atlansia / Stealth Custom 5st
Fender Musical Instruments / Presicion Special (Customized)
Original / Telecaster Model
Guitar Amplifier & Cabinet
Dr. Z Amplification / Carmen Ghia Head
Orange Amps. / #4 Jim Root Terror
Line 6 / POD HD
Two Notes Audio Engineering / Torpedo Studio


Copyright c Far East Ghost. All rights reserved.